Azay-le-Rideau Château
CHATEAUX OF THE LOIRE | CHATEAUX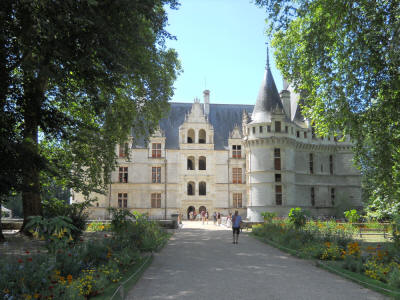 A jewel of the first French Renaissance : Azay-le-Rideau
Château d'Azay-le-Rideau 37190 AZAY-LE-RIDEAU FRANCE - Tel. : +33 2 47 45 42 04 - Fax: +33 2 47 45 26 01
Email : chateau.azay-le-rideau@monuments-nationaux.fr - Website : www.azay-le-rideau.fr/en
Opening times : open all year round. Closed on the 1st of May, 25th of December and 1st January.

Our guide's opinion :

Learn more !

Discover our pictures of Azay-le-Rideau.

The most famous places to visit in the Land of châteaux (French castles) near Azay-le-Rideau : Gardens of Villandry, the medieval town of Chinon, the castle of Langeais and its old keep, the castle of Sleeping Beauty : château d'Ussé, the castle of Brézé, the castle of Rivau and its lovely gardens.